Ivan Vukomanovič with a new contract for three years!
20.06.2017 | Autor: ts, photo: mm, mg
Ivan Vukomanovič and Vladimir Radenkovič will lead ŠK Slovan Bratislava also in next season
The cooperation between ŠK Slovan Bratislava and Ivan Vukomanovič gets long-term character. Direction of our club offered Serbian coach a new 3-years contract and Vukomanovič agreed. He signed the contract exactly on day, when he celebrated 40th birthday. "We are satisfied with work of Ivan Vukomanovič. He confirmed our expectations and we have agreed on our philosophy and project. We attended several meetings and key point is, that we found common opinion on progress of club. Ivan adapted in club, took his identity, what is visible with his enthusiasm to work in Slovan. He showed the big interest to be part of club also in next period and we are happy, that we signed a new contract," said vice-president of ŠK Slovan Bratislava Ivan Kmotrík jr.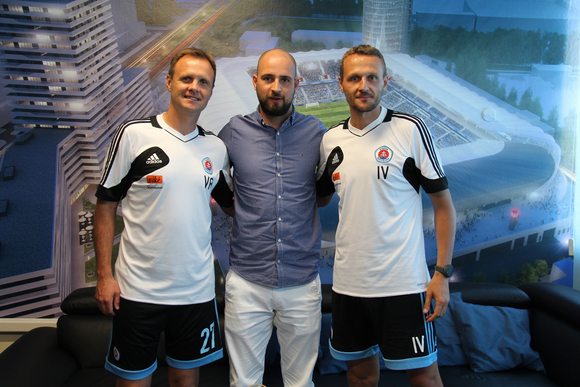 "We have pre-agreed before about future cooperation. It´s nice, that signing of contract is just on my birthday (smile). I am happy, that I will continue in my job in Slovan. I like club, fans and I believe, that we will enjoy lot of nice moments. We are going step by step, I can not wait for more challenges, which are in front of us. I love Bratislava and Slovan, I have club in heart and I will give it maximum," said Ivan Vukomanovič.
Ivan Vukomanovič leads the team since august 2016. He lead team in 35 games with record of 23 victories, four draws and eight losses. Vukomanovič also won Slovak cup with sky-blues.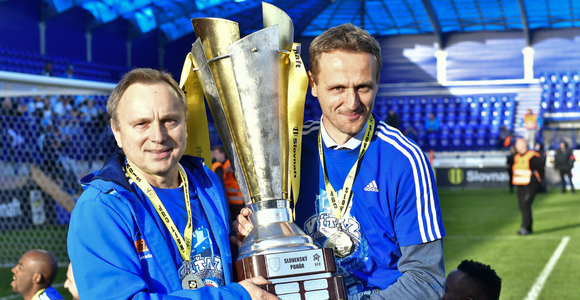 With Vukomanovič continues also assistant Vladimir Radenkovič, who also signed contract for three years.
As a football player, Vukomanovič played mostly in foreign countries. He won French title with Bordeaux in 1999, then he played in Koln, Red Star Beograd, Dinamo Moscow and Belgian clubs Lokeren and Royal Antwerp. He was a midfielder.
His career as a coach started in 2013, when he was assistant coach in Standard Liége. This season was a success and Liége finished at second place of Belgian league. Since October 2014 to February 2015, Vukomanovič became head coach of Liége and coached eighteen games. Afterwards, he worked in Belgian football association.
Fortuna league - Round 6


ŠK Slovan
vs.


Podbrezová

Place:
Date & time: Sunday | 27.08.2017 | 18:00