Róbert Vittek is back in Slovan!
21.02.2017 | Autor: ts, photo: ssk, mg
Róbert Vittek is coming back to Slovan Bratislava and signed contract until the end of current season.
ŠK Slovan Bratislava has signed the new agreement with 34-years old striker Róbert Vittek, who grew up in Slovan and played for this team since childhood. Róbert Vittek is the best striker of Slovak national team with 23 goals and one of the biggest personalities of Slovak football since 1993.
Róbert Vittek played for Slovan in highest football league in 2000 – 2003. Then, he left for FC Nurnberg and was the fifth in ranking of strikers in Bundesliga in 2005/06 (sixteen goals). Afterwards, he played for OSC Lille and Turkish clubs Ankaragücü, Trabzonspor and Istanbul BBSK.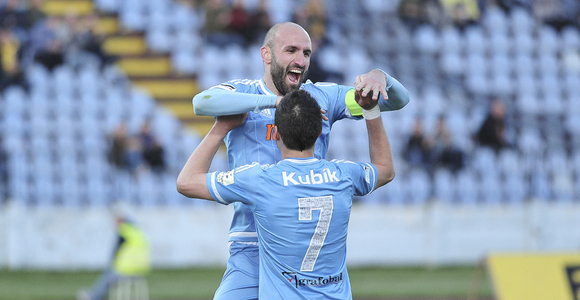 He played at World Cup 2010 in South Africa and scored four goals. Vittek was the second best striker of this world championship.
Róbert Vittek has made his first comeback to Slovan in 2013 and contributed to the title in Slovak league. In season 2015/16 was the best striker of Slovan with eighteen goals.
"In July 2016, I announced, that Robo Vittek has my door opened and I hoped, that our ways will cross again in future. Now it is happening and I am very glad to have Robo here again. We have quite good relationships together and negotiations were fast and correct. We signed the agreement until the end of this season with possibility of further cooperation in future. We wanted to help him during time, when he was looking for new club and I hope, that he will also help us. We promise from him to bring identity of club to dressing room and help our players to understand, which jersey they dress and what does it mean playing for Slovan. Robo belongs to Slovan. I hope, that he will help us in dressing room and also by goals on football pitch. His coming appreciated also head coach, who needed striker like him. Robo, welcome back in Slovan," said vice-president of Slovan Bratislava Ivan Kmotrík jr.
"I was kind of surprised about offer from Slovan. However, it was good surprise and I was very pleased. Negotiations were fast and correct. I hope, that I will bring something extra to dressing room and also to pitch. During winter, I was preparing individually and I feel fine. Slovan is my home and I am very happy to be back. I always was sky-blue and I will always be sky-blue," said Róbert Vittek.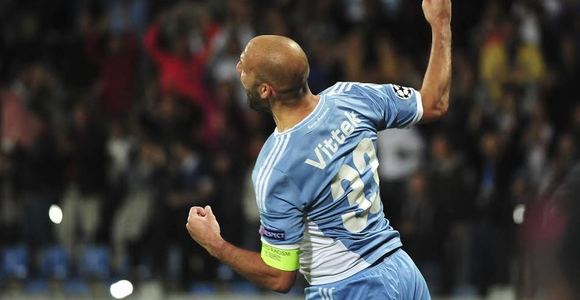 Fortuna league - Round 6


ŠK Slovan
vs.


Podbrezová

Place:
Date & time: Sunday | 27.08.2017 | 18:00